HINO TRUCKS BLOG
Hino Trucks Earns Price Digest Retained Value Award For Third Year In A Row
This is the third year Price Digest has presented the prestigious Highest Retained Value Awards to truck manufacturers. ...MORE >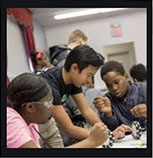 Hino Trucks Presents Novi Public Schools Scholarship To Class Of 2021 Recipient
After a year of pandemic uncertainty and adapting to a new normal, we are proud of all students who have continued to be motivated and persevere toward their educational goals. ...MORE >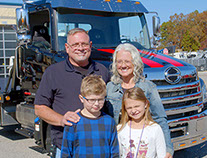 Hino Trucks & Miller Industries Make A Difference For Recovery Company
The small town of Oliver Springs, Tennessee (population 3,500) had some big news ...MORE >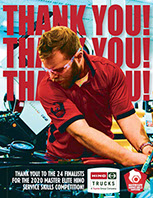 Meet Hino's 2020 Service Skills Competition Finalists
Our Master Elite Service Skills Competition may have been cancelled, but it is clear that this year's Class of 2020 Finalists are like no other! ...MORE >
Share your story with us and might win a $1,000 fuel gift card AND we'll feature you in our next Hino eNewsletter so we can all learn and be inspired by what you do! ...MORE >
What's Your Pivot?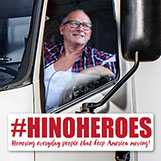 #HINO
HEROES
Shining a light on everyday heroes
Shining a light on everyday heroes that are a part of Hino Nation. Share these happenings using the hashtag #hinoheroes ...MORE >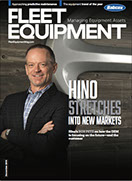 Hino STRETCHES into new markets with upgraded, extended equipment offerings
COVER STORY BY JASON MORGAN | EDITOR
In the middle of the Hino Trucks booth at the North American
Commercial Vehicle (NACV) Show sit several of the industry's most
unique offerings: ...MORE >
The name Hino doesn't come to mind when we think of highway or vocational trucks. Since the mid-1980s, the builder has made its mark in North America by producing ...MORE >
By Tom Berg, Truck Editor | October 17, 2019
Hino XL8 Class 8 Truck Makes Inroads in Heavy Delivery Applications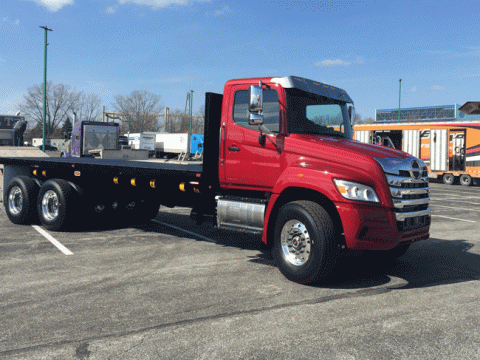 The Only Trucking Industry Award that
Recognizes Top Commercial Trucks with the Best Retained Value
ATLANTA, September 4, 2019 – Price Digests, the leading vehicle values and specs data provider for over 100 years, today announces the winners ...MORE >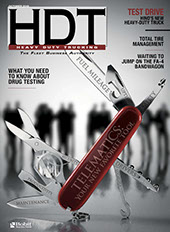 TEST DRIVE HINO'S XL SERIES
Jim Park, Equipment Editor for Heavy Duty Trucks recently drove a Hino XL8 Series reefer. "This Baby 8 will ...MORE >
SIGN UP FOR OUR E-NEWSLETTER:
FOLLOW US ON:
MEDIA CENTERS:
MEDIA CONTACT:
Reach our media liaison here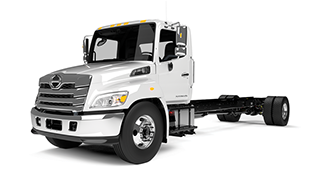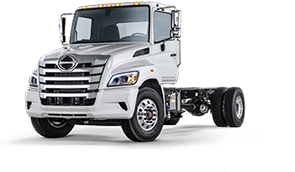 SIGN UP FOR OUR E-NEWSLETTER:
LOCATE A HINO DEALER:
OWNERSHIP:

SEARCH THE HINO TRUCKS WEBSITE:
©2019 HINO MOTORS SALES U.S.A., INC.