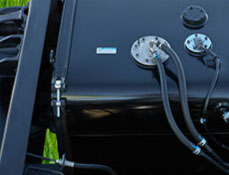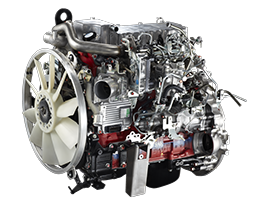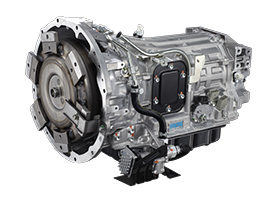 The Hino JO5E Series Engine produces 210 HP and 440 lb.-ft. torque - engineered for maximized performance and fuel economy.
The Aisin A465, 6 speed automatic transmission is standard on every COE. Hino partner Aisin is a leader in the industry with over 40 years experience manufacturing durable, quality transmissions.
Center Mount Fuel Tank: A 30 gallon rear center mounted fuel tank is standard.
SCR: Hino's proprietary Selective Catalytic Reduction technology lowers NOx emissions by more than 80%
"This is a breakthrough for our industry.
We have been waiting a long time for a viable hybrid option that could be designed to accommodate all of the equipment we take out to the field every day. I couldn't be happier!".
Anderson Plumbing, Heating, & Air
El Cajon, CA
Standard A/C and CD
Air conditioning is standard. So is a CD. Tilt and Telescoping steering column? Of course. Cruise control? Got it. Our goal was to make this a great place to spend the day - then make sure it makes business sense. We think you'll like the combination.
Unprecedented Visibility
We placed the driving position high to gain a wide perspective of the road while also maintaining a good feel for the corners of the hood.
Fully galvanized steel cab with extra rigidity for ride comfort and noise reduction.
Wide Enough For the Team
Standard two person passenger seat and comfortable driver's seat. Bring the team.
Strong, Straightforward, Dependable. Here's a better way to build a cab - high visibility, great comfort and super low noise levels. All-in-all, it's a great place for a driver to spend the day. With Toyota inspired interior design our cabs offer a complete package of the most necessary features and then kept it simple and serviceable. Your drivers, technicians and accountants will love it.
BUSINESS INTELLIGENCE: BUILT-IN.
For MY2017 every Hino truck is equipped with, and supported by, the Hino Edge platform. That means you have instant access to business intelligence and Remote Diagnostics with Case Management that not only increases profitability and fleet & driver efficiency, but reduces downtime and operating costs.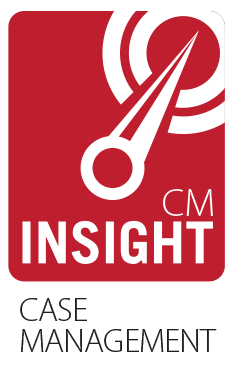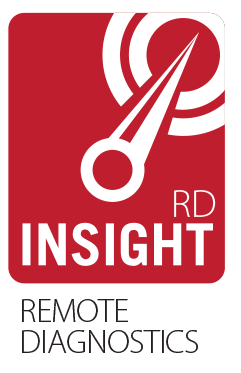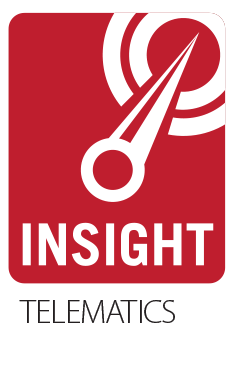 ABOUT HINO EDGE
With EDGE Telematics, you can monitor idle times, heavy braking, speed, location, distance traveled and much more. EDGE Remote Diagnostics will alert you, your dealer and Hino in the event of a DTC and we will direct you as to next steps and urgency. EDGE Case Management will streamline the service process with appointment co-ordination and service progress updates.
Hino Trucks offers the premier, industry-best engine warranty. Our Conventionals come standard with a 5 years, 250,000 mileage extended warranty coverage, and our Cab-overs come standard with a 5 years, 200,000 mileage extended warranty coverage while additional optional coverages are available for the engine and aftertreatment system. Let's just say we have confidence in the Hino J-Series engine family and we back it up with the industry's best warranty!
In addition to the standard items covered by Hino Trucks' past engine warranty, the new coverage has been expanded to cover key components such as fuel injectors, the fuel injection supply pump and the turbo charger. Hino Trucks' proprietary J08 engine is the industry's most-awarded medium-duty truck engine and our warranty backs up the talk.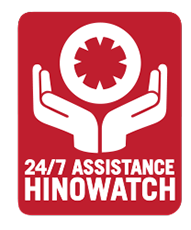 We've got your back! Covered that is. For the first three years of ownership regardless of mileage. HinoWatch is there to ensure you are protected night and day, year round - with roadside assistance for your Hino light or medium duty truck anywhere throughout the United States.
Simply call the HinoWatch toll-free number, 1-866-365-HINO [4466], and provide your vehicle identification number, current truck location and problem description. All calls to HinoWatch are free to Hino owners and a representative can make arrangements to get you back on the road in one of sixty-five languages.
Hino now offers a preventive service care program for all diesel-only Hino models called HinoCare. Available in various plans ranging from 2 to 6 years, HinoCare provides value in peace of mind by totally covering and managing scheduled standard maintenance items such as:
Engine Oil, Fuel Filter, Air Filter Replacements
Transmission Fluid and Differential Oil Replacements
Steering, Brake Pad, Battery Terminal, Wheel Checks
Gauges, Warning Lights, Mirror, Wipers Checks
Engine Belt, Air Intake System Checks
In addition to standard checks and replacements, HinoCare also covers a Diagnostic Trouble Codes check. Contact your local dealer for additional details.
Preventive maintenance doesn't just enhance the lifespan of regularly used equipment, it enables higher performance while saving you money down the road.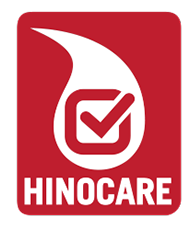 MEET SOME HINO OWNERS & FLEET OPERATORS


"Hino's better driver visibility and turning radius has helped immensely with our deliveries in downtown Dallas."
Deep Ellum Brewing Co
Dallas, Texas
"It didn't take me long to realize the value that Hino brings to the table. My trucks stay on the road; my operating costs have been drastically reduced and my revenues continue to elevate."
DFW Propane Exchange Dallas/Ft. Worth, TX
"Our drivers say that this is an ideal vehicle for driving in Manhattan. Our fleet of 195h's have been virtually trouble free, and of course the fuel savings are a welcome benefit".
Baldor Express Transportation Co
Bronx, NY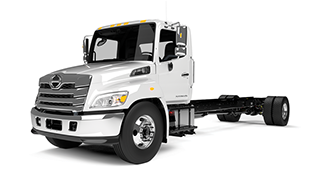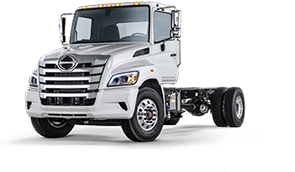 SIGN UP FOR OUR E-NEWSLETTER:
LOCATE A HINO DEALER:
OWNERSHIP:

SEARCH THE HINO TRUCKS WEBSITE:
©2019 HINO MOTORS SALES U.S.A., INC.