Hino XL8 Class 8 Truck Makes Inroads in Heavy
Delivery Applications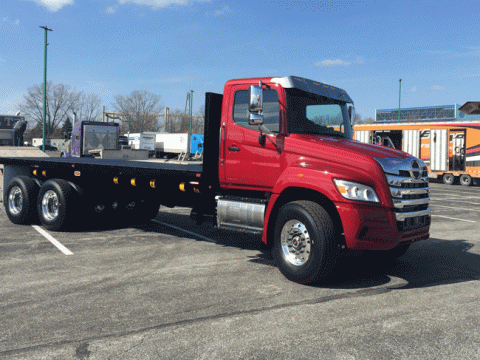 Hino XL8 with tandem rear axles and long flatbed is set up for building-supply deliveries.
The name Hino doesn't come to mind when we think of highway or vocational trucks. Since the mid-1980s, the builder has made its mark in North America by producing and selling local delivery trucks, first with medium-duty cabovers imported from Japan and then with conventional-cab adaptations assembled initially in California and now in West Virginia. But some of those have been outfitted with snow-plow equipment and dump bodies. Meanwhile, Hino, a unit of Toyota, also makes Class 8 heavies for customers in Asia and elsewhere. And after slowly and methodically making inroads in North America, it is expanding into the heavy duty market here.
A new Hino XL7 and XL8 series comes as a Class 7 or 8 straight truck or tractor, and like its mediums, Hino's new heavy models are primarily aimed at local and regional operations. That's what the trucks you see here are designed for. One has a long flatbed with proper tie-down equipment, and customers have begun buying such vehicles with rear forklift mounts for distributing building supplies, said Derek Kline, the company's marketing manager. The one I drove had a refrigerated van with similar components, so my impressions will apply to both. In short, it's easy and satisfying to operate no matter what's on the frame behind the cab.
Hino's reputation for making tough, long-lasting trucks should also expand to the heavier models. Like its 200 and 300 series mediums, XL7 and XL8 vehicles use an engine and galvanized steel cab shell sent from Japan, but everything else—from frame rails and axles to hoods and interior upholstery—is sourced in North America, primarily the United States. All XLs have a larger A09 diesel, a heavy-duty powerplant with a midrange-size displacement of 8.9 liters (about 544 cubic inches, similar to a Cummins L9). In our test truck, the engine had the highest rating of 360 horsepower (the others make 300 and 330 horses). The transmission was an Allison 3000 RDS 6-speed automatic, an easy-to-drive and long-lived appliance running through Dana tandem rear axles. Rear suspension was a vocational-type Hendrickson HaulMaax with rubber springs that nonetheless rode well.
Driving the truck was a snap, thanks largely to the Allison automatic but also to a healthy upright seating position and terrific outward visibility through a large, near-vertical windshield and tall side glass. The hood sloped down and out of the way, but I could glimpse its leading edge over the grille so I knew where it was. The dashboard and instrument panel were attractive but simple, and the gray seat fabric felt cool and had a natty but subtle pattern. There were only four gauges: speedometer, tachometer, and a pair of air pressure readouts, one for system pressure and the other for application pressure, with odd labeling ("10 x lb2" instead of our standard PSI). But a center color screen can show coolant and oil temperature, fuel and diesel exhaust fluid levels, diesel particulate filter regeneration events, odometer and trip odometer, average speed, idle time, miles per gallon, active safety warnings, Hino Edge telematics status, and so on. But you have to read those numbers on the screen while analog gauges show values at a quick glance. HVAC controls, thankfully, are the tried-and-true triple knobs for temp setting, fan speed, and air-flow setting.
The XL sits high as a Class 8 truck should, but well-placed steps lead a driver easily into the comfortable cab. Tanks for fuel and diesel exhaust fluid are on the left side, and exhaust aftertreatment equipment is on the right.
Kline said there was a 10,000-pound test load in the body, which helped settle things down and gave us an idea of a realistic ride. It was good: smooth over decent pavement with some vibration and a just a little jouncing over rough concrete and asphalt. Helping were the standard air-spring rear cab mounts and the National air-suspended driver's seat. A contoured bench seat could've accommodated two passengers, though Kline was the only guy along on this brief trip in the vicinity of Hino's new 1-million-square-foot plant. While underway, road noise was minor and the engine sounds were well muffled, and ample insulation kept the interior quiet and cool. We drove on suburban streets and a couple of parking lots where I made some sharp turns and did some backups to test maneuverability. It was fine.
The powertrain was excellent on town and country roads, with a steep 5.29 axle ratio making for excellent startability. But even with the Allison's two overdrive ratios in 5th and 6th, on nearby Interstate 77 the A09 spun at 1,900 rpm at 65 mph, which is only 100 rpm shy of the official redline, and top speed is under 72 mph. The engine would probably do that for many years with no complaints, as Hino claims it's built to last almost 1 million miles. A faster axle ratio would slow the engine somewhat, and a more cogs in the tranny would do even more and perhaps improve fuel economy. Kline said an Eaton 10-speed manual is available and a 13-speed overdrive gearbox is in the options list, but few customers take manuals because the standard Allison 6-speed works so well. And after all, this truck was not set up for steady highway service.
With its 54,600-pound gross vehicle weight rating, this 10-wheeler is not a replacement for heavy dumpers or mixers. But multi-axle trucks using midrange-size engines are not unheard of, so who knows—Hino might someday approve lift axles and higher weight ratings for the XL series, or it might not. Taken for what it is, the XL is an exceptionally able and comfortable machine that will likely do a terrific hauling job and please its driver as well as its owner. Ask people who run medium-duty Hinos what they think of their trucks, and you might be compelled to give this new heavier model a gander.
Handsome, recently designed dashboard is somewhat short on analog instruments, with only a speedometer, tachometer, and two air gauges built in. But the center color screen can display more additional information than a driver can shake a finger at.
The Hino 8.9-liter A09 diesel makes up to 360 horsepower, which is this engine's rating.