SERVICE SUPPORT ONLINE AND OFF.
HINO TRUCKS PUBLICATIONS AVAILABLE ONLINE: Manuals and CD ROMS: Factory Repair Manuals, Owner Manuals, ETMs, Wiring Diagrams, Body Builder Manuals, Collision Books, TSBs, Service information and diagnostic equipment - Are all available from our ON DEMAND online center for publications. [NOTE: Links open new window]
SERVICE INFORMATION
Workshop Manual Engine & Chassis (available for individual purchase or via subscription)
Tech Tips (Free downloads)
Owners Manuals (available for individual purchase)
Service Bulletins (Free downloads)
Body Builder Guides (Free downloads)
BODY BUILDER BOOKS
2015 - 2021 Body Builder guides are available free of charge
WORKSHOP MANUAL SUBSCRIPTIONS
Online service information is an alternative for our customers who are looking for cost effective repair information - but still want it direct from the manufacturer. Online subscriptions include: Engine, Chassis, Body Builder Information direct from Hino and Workshop Manuals all in one seamless subscription package.
Factory authorized information is 100% complete as compared to the rewritten competitors. This means more information for more accurate repairs.
CAD DESIGN FILES
Hino Trucks dealers and body builders now have direct access to download 3D CAD models (.stp files) of all 2016MY and up conventional and COE chassis to be used for body design via a dedicated website www.hinocaddesign.com. The site requires registration and approval from Hino Trucks prior to accessing any information.
DIAGNOSTIC SOFTWARE AND
EQUIPMENT
HINO DIAGNOSTIC SOFTWARE: The Hino diagnostic software, Diagnostic eXplorer II, is available for purchase online.
Also available for purchase online is the compatible electronic interface, NEXIQ USB-Link 2 and OBD adapter.
DXII SOFTWARE
Hino Diagnostic eXplorer II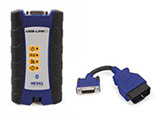 USB-LINK 2 KIT
NEXIQ™ Technologies USB-Link 2 with OBDII Adapter