Introducing the all new Hino L Series trucks, replacing our conventional lineup. Now known as the L6 and L7, you'll immediately see the new exterior design including a bolder front fascia and optional LED headlights to make sure you're able to safely navigate the roads in style.
Open the door and you'll be greeted with a re-engineered interior with high-end automotive grade finishes built with commercial use durability and an eye towards increased functionality. New steering wheel controls, a large 7" LCD multi-information display, more storage and increased leg room all make your "office" more safer and more comfortable.
Speaking of safety, the new Hino L Series has integrated an entire suite of new safety systems to ensure you and your cargo get where they need to be quickly and safely. Electronic Stability Control (ESC), Collision Mitigation System (CMS) Lane Departure Warning (LDW), Active Cruise Control (ACC) and a driver's seatbelt sensor are all there to protect you mile after mile.
Last but not least, the new L series is maximizing your business's functionality with new wheelbase options, extended cab and crew cab configurations. No matter what your business needs, there's a Hino L Series there to help you do more.
Proven Reliability
With nearly 40 years in production and more than 13 million engines built, the Cummins B6.7 TM is already the proven champion of medium duty fleet reliability.
The EPA 2021 B6.7 builds on this legacy of reliability and durability while lowering the total cost of operation, helping to keep trucks on the road longer. New for EPA 2021, the B6.7 features upgrades that allow for extended engine maintenance intervals, including longer oil drain intervals, more time between fuel filter changes and a completely maintenance free crankcase ventilation filter.
That means trucks go longer between trips to your Hino dealer for regular maintenance and more money back to your bottom line
TURBOCHARGER
SINGLE MODULE AFTERTREATMENT
COMMON RAIL FUEL INJECTION
Cummins single VGT is
a simple and elegantly designed turbo that can dynamically adjust the airflow by adjusting a single sliding nozzle for better air/fuel mixing. Additionally, the VGT provides engine braking without the need of incorporating a separate engine brake.
Combines high efficiency SCR, a redesigned dosing unit and a DPF into a single flow through unit. This single pass through design optimizes exhaust flow , and the compact packaging helps maintain hotter , consistent temperatures across the unit for better NOx reduction and optimized fuel efficiency while helping to minimize periodic maintenance
Delivers superior performance, even in lower engine rpm speed ranges. Enables multiple injection events per cycle for improved fuel efficiency with quieter, smoother operation.
Driveline Components You can Trust.
Proven US made driveline components on a standard 34" frame powered by Cummins. Marry the efficiency and durability of the Cummins engine to a first class selection of industry proven drivetrain components, then attached everything to an ultra clean, solid fram . The result? Great performance from components you know and trust.
COLLISION MITIGATION SYSTEM
Available radar-based collision mitigation system provides active braking on moving and stationary vehicles — in all visibility conditions.
LANE DEPARTURE WARNING
An available camera-based system that helps reduce road run-offs, side swipes, and head-on collisions due to driver inattention or fatigue through distinct audible warnings for unintentional lane departures.
ELECTRONIC STABILITY CONTROL
Automatically intervenes when there is a high risk of directional instability that could lead to loss of vehicle control or rollover. Standard on all Tractors.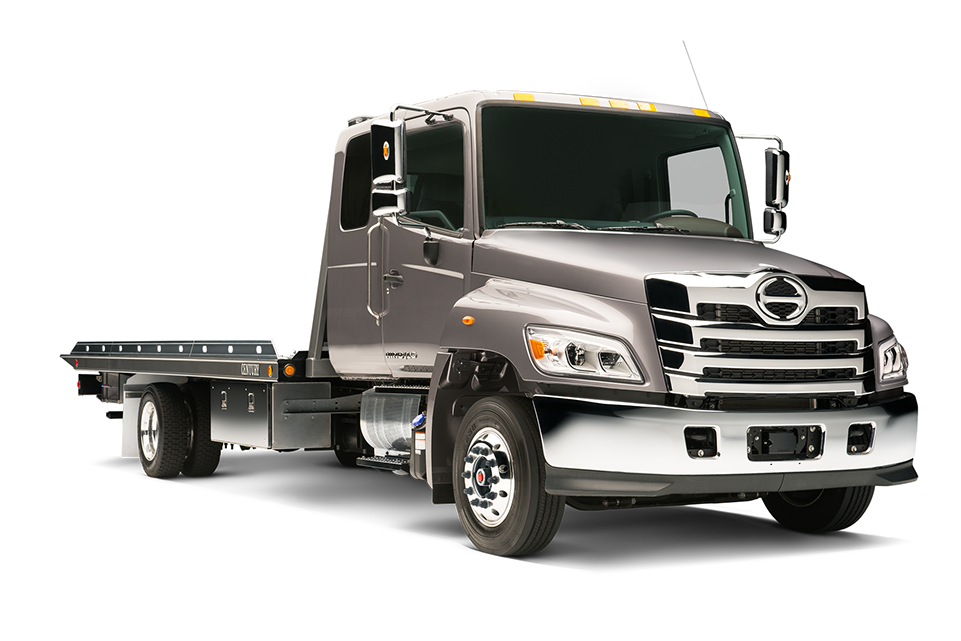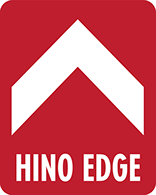 GETTING MORE FROM YOUR CONNECTED VEHICLE
Hino Trucks is raising the bar once again in customer ownership experience with the introduction of Hino Edge, the company's all-new, third generation connected vehicle solution. Hino Edge synergizes the digital connection between the fleet customer, dealer network, Telematics Service Providers, and Hino Ultimate Support Center, to provide customers a competitive edge.